Disney Research Enabling More Complex, Entertaining Augmented Reality for Theme Parks
Calibration. Few words in the English language are quite so yawn-inducing. But calibration – or, more precisely, automated calibration – is key to the projection-camera systems (Procams) that mesmerize and delight guests at a growing number of Disney theme park attractions worldwide.
Thanks to automated calibration and other Procam tools developed by Disney Research, guests at Goofy's Paint 'n' Play House at Tokyo Disneyland can work together to wildly redecorate a room using simulated paint activators. They can gape at a 30-meter-diameter screen that comes alive with breaking waves and battling pirate ships in Shanghai Disneyland's Pirates of the Caribbean – Battle for the Sunken Treasure attraction.  Or they can even enjoy remarkable special effects in a theatrical production, such as "Frozen, A Musical Spectacular,' on a Disney Cruise Line ship.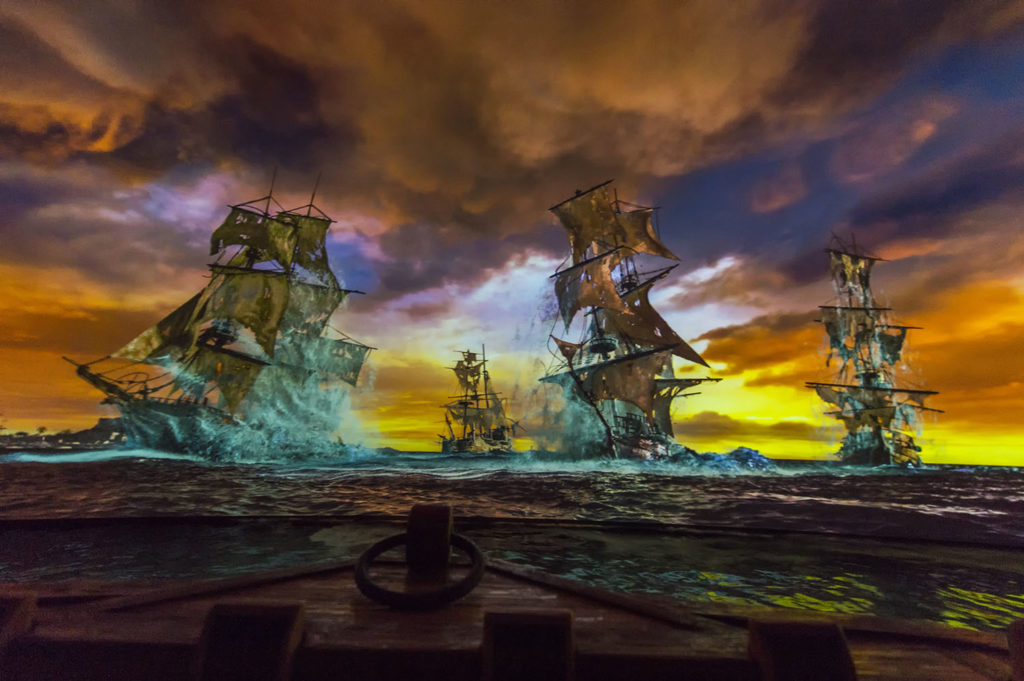 "These tools allow us to do things that couldn't have been done before," said Anselm Grundhöfer, principal research engineer at Disney Research, who has led the effort to create a Procam toolbox. "We can have 30 projectors whose images blend together seamlessly; to be honest, our system can accommodate an infinite number of projectors. And it's not limited to flat projection screens; you can project over anything – rocks, textures, eventually even faces."
The tools have been embraced by Disney creative and engineering staff members.
"With Procams, we can quickly accomplish carefully lit environments that are larger and more complex, which enhances the ability to immerse guests like never before," said Dumëne Comploi, creative technology director at Walt Disney Imagineering.
Projection-based augmented reality is nothing new to Disney. An early example is the quintet of singing busts in the graveyard scene in the Haunted Mansion; by projecting images of actors singing and talking onto the physical busts, the characters magically come to life.
The Procam toolbox project anticipated more complex effects, involving multiple and different types of projectors carefully calibrated so that images don't overlap or become distorted. Doing this calibration with time-consuming manual calibration simply wouldn't be possible, Grundhöfer said.
What was needed was a set of tools that would enable Imagineers to design and build these intricate displays, as well as the tools necessary to maintain the attraction and ensure its quality for years of operation. The tools need to work regardless of what hardware or software was being used and regardless of the geometry of the scene being augmented.
The Procams toolbox proved to be a perfect example of technical research collaboration, said Mark Mine, director of platform innovation at Walt Disney Studios. "Not only did Anselm and his team have superior technology that enabled top-quality results that have been leveraged in many theme park attractions already, but they were willing to address specific requests and research challenges that were important to achieve the quality of a Disney theme park attraction," he added.
"Even if a projector fails after a couple of months, as often happens, maintenance can replace the projector and be ensured that the results will be seamless," Grundhöfer said of the new tools. If a particular brand or model of projector is discontinued over the life of the attraction, the calibration tools can easily accommodate new models as replacements.
"These tools easily adapt to any hardware or software and offer a platform-independent solution," Comploi said. "This makes it easy to hire world-class artists and enables them to use a variety of different content-generation tools."
The Procam tools accommodate an infinite variety of projection surfaces – flat screens, dome screens, even rocks and pirate ships. The system can reconstruct the surface geometry as a point cloud, enabling images to be projected without distortion or making it possible to suggest optimal positioning of cameras and projectors. As more precise projectors become available, the Procam tools can help make rough, textured surfaces appear as smooth as glass.
Parametric calibration makes it possible to precisely align images to create a smooth, consistent projection without unsightly overlaps. If one blend projector is casting a shadow, the system is able to figure out which one is doing so and find another projector that can compensate for it, Grundhöfer said.
Since Goofy's Paint 'n' Play House debuted in Tokyo in 2012, more and more attractions and shows have incorporated projector-camera systems. Yet, there is still room for further development. For instance, Grundhöfer said he and his colleagues are working to accommodate additional types of equipment, such as laser projectors.
One of the major challenges remaining is to perfect a method for projecting onto moving surfaces, including human faces.
"We first have to capture the motion and then calculate how to project onto it," Grundhöfer said. "It's very complicated but this kind of challenge is why Disney Research exists."